Terry Morgan – Shamanic Astrology 2022
Experience the power of shamanic astrology through your own unique planetary journey — deepening your awareness of your essential Self to attain a higher perspective and feel loved, centered, and whole.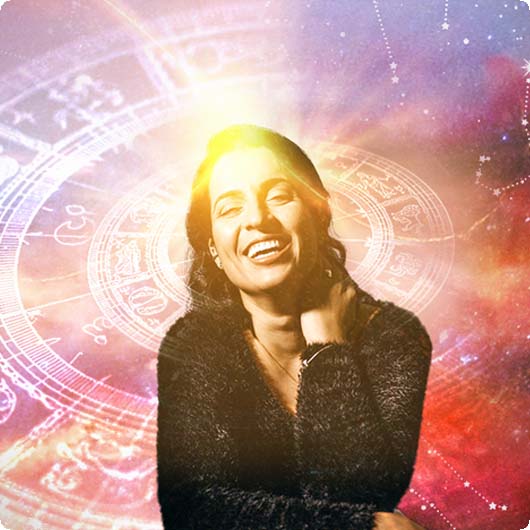 Does reading your astrological natal chart seem complicated or overwhelming?
While charts and symbols can be useful, insightful, and informative, they can also be confusing.
Typically, astrologers consider your sun, moon, and rising signs… the placement, angles, and aspects of the planets… and which of the 12 houses they're in at the time and place of your birth.
Alternatively, shamanic astrology can provide you with profound clarity by empowering you to feel the lived experience of your mind, body, and spirit more deeply. If you find traditional astrology challenging to follow, shamanic astrology can help you embody your unique planetary placements through shamanic journeying.
Terry Morgan's revolutionary approach combines two ancient wisdom systems — shamanism and astrology — enabling you to access astrological energies, and empowering you to experience direct revelation by opening Spirit receptors through rituals and movement.
Join us for a powerful new 7-week course with shamanic astrologer extraordinaire Terry Morgan, who's developed a unique toolkit for working magic and bringing healing. In this program, you'll discover how to become your own astrologer by exploring your unique planetary placements and taking a weekly shamanic journey — to integrate your personal planets' wisdom into your daily life.
Shamanic journeying deepens your awareness of your true self, connecting to direct revelations of shamanic sages and astrologers throughout history and integrating them into your everyday life.
Terry, who has a warm, inviting way of making her signature shamanic astrology process direct and accessible, is a graduate of world-renowned shamanism teacher Sandra Ingerman's Teacher Training. Sandra's been at the forefront of bringing shamanic practices to a global audience for decades, training tens of thousands of practitioners worldwide, and Terry spent years assisting Sandra in her online classes.
Together with new-age deep relaxation musician Robert Rand — Terry's guest teacher and partner — Terry will guide you through weekly shamanic journeys, where you'll access planetary information relevant to your life.
Terry will help you understand who you are in new ways, by giving you tools to deepen your journey through the lens of your astrological blueprint.
Each module will include a shamanic journey to one of the planets, providing you with an embodied experience of that planet's energies. Robert will accompany these experiences with live channeled music to support and guide you during the journeying process.
As you'll discover, you have a planetary path unlike anyone else's, offering wisdom and guidance that can revitalize your life force and add greater energy and vitality to your daily life.
During this powerful experiential journey, you'll:
Discover transformative insights into your life path and take more control of your future as you become your own astrologer
Take weekly shamanic journeys to help you download planetary information about yourself, and return with revitalized life-force energy
Find a pathway to thrive in these challenging times as you understand your own shamanic astrology
Access your own planetary information using direct revelation
Explore what it means to connect intimately into the core of your being with your soul's language
Journey to receive your North Star's power animal for clarity on your path
Easily embody the journeying process with the accompaniment of live channeled music
Play with movement and creative games to deepen your embodied experience
Discover how to pause your distracted mind and enjoy the present moment
Discover what it means to harvest and seize your innermost power
Reclaim the part of you that knows what it truly wants
And much more…
What You'll Discover in These 7 Weeks
In this 7-week experiential course, Terry will guide you through the fundamental skills you'll need to successfully take shamanic journeys to the stars and download planetary energies.
The Power of Livestreaming Video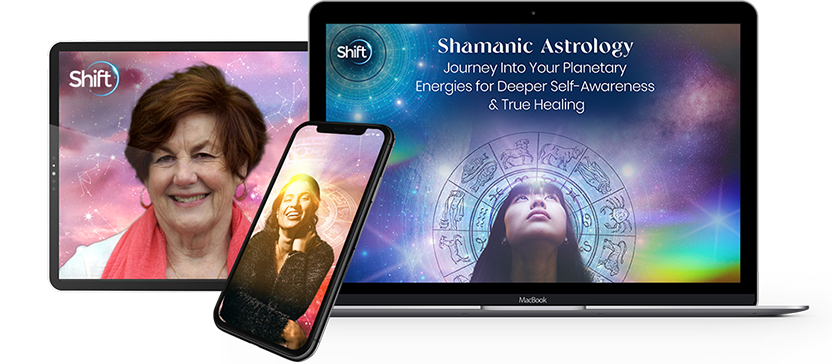 You'll connect with Terry and experience her teachings through livestreaming video via any connected device. This connection is easy to use and will enhance the impact of Terry's transmissions. Or you can listen to just the audio by phone.
(Can't make it live? No worries! After each class, the video and audio recordings will be available for you to download or stream in a high-quality format at your convenience.)
Weekly Sessions Thursdays at 9:00am Pacific
This course will feature LIVE teachings, interactive training sessions, experiential practices, and Q&A with Terry. Each session will build harmoniously upon the previous ones, so you'll develop a complete holistic understanding of the practices, tools, and principles you'll need to create your own shamanic journeys to the planets to retrieve ancient wisdom and apply it to your daily life.
Module 1: Accessing Your Solar Self & Your Life-Force Energy (April 7)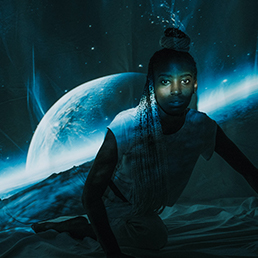 You'll begin your journey by noticing where you're distracted by your mind's focus on the external world, and how difficult it can be to stay present.
When you notice how connected you are to the outer world, you can shift into a higher perspective and practice pausing your distracted mind and feeling the present moment.
Terry will guide you on a dynamic shamanic journey to access your own planetary energy and soak in the timeless healing of your own solar life-force energy. She'll also lead you in gentle movements to feel the life-force energy in your body… and play creative games with your inner knowing and creative self.
In this session, you'll discover how to:
Pause your distracted mind to focus on the present moment
Access your own planetary information using direct revelation
Journey to the sun to discover your solar self
Tap into your own life-force energy
Play creative games with your inner knowing
Module 2: Engaging Your Body, Heart & Soul — Exploring Your Moon Spirit (April 14)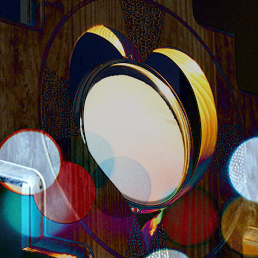 Once upon a time, you may have felt totally at home inside yourself, full of joy and exuberant happiness. However, with all the increased pressures in our daily lives, maybe that's changed, and you're feeling lonely even when surrounded by people.
That joy you knew is still there, hidden away deep in your heart and body and waiting to be called forth again.
In this module, you'll learn how to set up sacred space as a means to becoming more comfortable again — wherever you are — to reclaim the joy and happiness you once had.
In this session, you'll:
Ground into your center through flowing, somatic movements
Take a shamanic journey to the moon and open to your moon spirit
Soak in your personal healing energy
Play with expressive image-making
Set up a beautiful sacred space in which you can reclaim any lost joy and happiness
Module 3: Integrating Your Heart & Life-Force Energy — Melding the Magic of Your Sun & Moon Signs (April 21)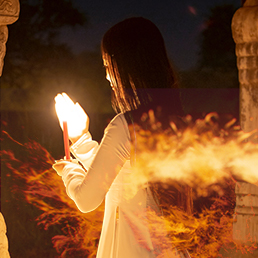 Everything in the universe is a dynamic, evolving dance of complementary energies. We have to be our sun (the sign that represents our life force) while also acknowledging the moon (the sign that represents our heart) within us. The more we know and feel, the more alive we become.
In this session, Terry will offer wisdom to bring these two powerful luminaries — the energies of your sun and moon signs — into a co-creative relationship so you can use this alignment to claim your innermost power.
You'll also experience the magic of a fire ceremony to prepare your journey into sacred space.
In this module, you'll:
Connect intimately into the core of your being with your soul's language to find a cohesive center
Harvest and claim your innermost power
Discover movement as a gateway into the journey garden
Participate in a fire ceremony with Terry as your guide
Module 4: Healing Your Inner Stories — Activating the Redemptive Power of Your North & South Nodes (April 28)
We all have stories we've told ourselves about who we are and what we can accomplish. You might agree that some stories are less supportive than others.
Imagine having a bigger story, a soul's story, a North Star to light the night's journey and bring vision and perspective on your healing journey.
Like a wise elder, your North Node (one of your two lunar nodes) can act as your North Star, helping you see your path more clearly and illuminate the big picture of why you're here on Earth at this time.
Terry will show you how to call in a higher perspective to help lift you up and seize new insights into your story.
In this session, you'll:
Journey to your North Star for guidance and healing
Receive your North Star's power animal for clarity on your path
Participate in a ritual to explore your own hero's journey
Create an image of your power animal
Module 5: Discovering What You Truly Love — Savoring the Delicious Delights of Venus (May 5)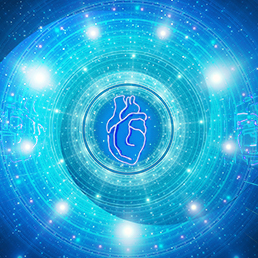 Life is more fun when it's… more fun! Many of us try to make choices based on intellectual formulas or what others think we should do or be. Meanwhile, our true inner desires aren't getting met.
Often, our lives are more of a reflection of the values of the collective, rather than our own. Claiming our own Venus, the planet that represents what we love and value, helps us distinguish ourselves from the collective and live a truly vibrant life of our own making.
In this session, you'll:
Journey to Venus to reclaim what you truly desire
Discover the Wind Whistle invocation for grounding
Play with paint to produce images from your heart
Explore how to create sacred space with fire
Module 6: Expressing Your Inner Potency — Reclaiming the Sweetness of Mars & Its Insights Into Your Embodiment (May 12)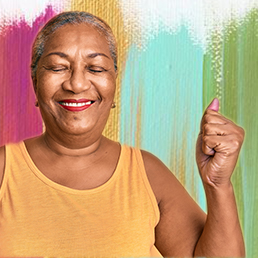 Action is the essence of the universe. We can act authentically when we're connected to our inner strength. In a world where people have lost sense of their own power, you can regain yours by reconnecting to your inner source.
In this session, Terry will show you how to tap into your own potential for right action. You'll discover how your ever-present potency is ready in each moment to serve your life-force energy.
In this session, you'll:
Journey to Mars with a shamanic guide to meet your inner power potency
Discover the true qualities of your inner powers
Receive healing energy from Mars that you can access anytime
Create a ritual to express your potency
Practice invoking your spirit ritual through image-making and movement
Module 7: Practicing Shamanic Astrology From the Divine Blueprint You Embody — Integrating Your Inner Council With a Star Soak in the Milky Way (May 19)
Journeys are like a circle. We may return to where we started, but with unforgettable experiences and knowledge we didn't have before. This is the nature of our soul's evolution.
In this module, you'll learn about the unified and vibrant totality of the planets operating together, and journey to the planetary luminaries you've already explored to access the ever-present guidance and wisdom of your own unique planetary teachers.
In this closing session, you'll:
Discover the core of your internal planetary collaborations
Ride in a spirit canoe to the Magic Cave of Star Creation
Take a star soak in the Milky Way
Be guided on a shamanic journey to all the planets and luminaries covered in this course — to have a direct experience of them
Create a remembering sketch of your experience with your luminaries
What People Are Saying About Terry Morgan…
"Terry is an amazing human, supercharged by the universe, by Spirit, and by love, reciprocity, and kindness!"
It's a true privilege to witness and receive the many gifts that Terry so genuinely and lovingly gives to ALL beings within the Web of Life. As a student nearly seven years ago, I met Terry and experienced her warmth, confidence, and fire-like exuberance in her teaching, as well as the deep respect she has for the material she presents. Always integral, ever thoughtful about her students, and passionate about what she's teaching, Terry is an authentic leader who supports others to provide the best experience for participants while teaching, facilitating ceremonies, and promoting spiritual wellness. As an astrologer, Terry has provided me with deep and crystal-clear insight to inform and support me on my life journey. Gaining clarity about astrological influences in my life has helped me feel grounded in making decisions and taking action. Terry is an amazing human, supercharged by the universe, by Spirit, and by love, reciprocity, and kindness!
— Rev. Jody Breton, ordained minister, shamanic mentor and teacher
"Terry is a multitalented, powerful, loving, and devoted shamanic practitioner, leader, astrologer, body worker, dancer, artist, and lover of life!"
I was fortunate to have Terry Morgan as my teaching associate for eight years. She successfully taught several Introduction to Shamanism classes and provided inspired leadership around movement, ceremony, and artistic expression for more than a hundred meetings of advanced shamanic programs both at local venues as well as private retreat facilities. She had a powerful impact on hundreds of students during those years, and continues to have a mentoring relationship with many of them. Terry excels in working with the elements and with the shamanic exploration of the stars, the moon, and the cosmos. Her workshops in these particular areas will be full and highly successful, of that I have no doubt! Terry also teaches astrology programs that are unique and powerful. I have had the pleasure of being a student in one of her astrology programs, where I learned a lot about myself while also feeling deeply held and respected. Terry is a multitalented, powerful, loving, and devoted shamanic practitioner, leader, astrologer, body worker, dancer, artist, and lover of life!
— Dory Cote, shamanic practitioner and teacher
Join the Global Community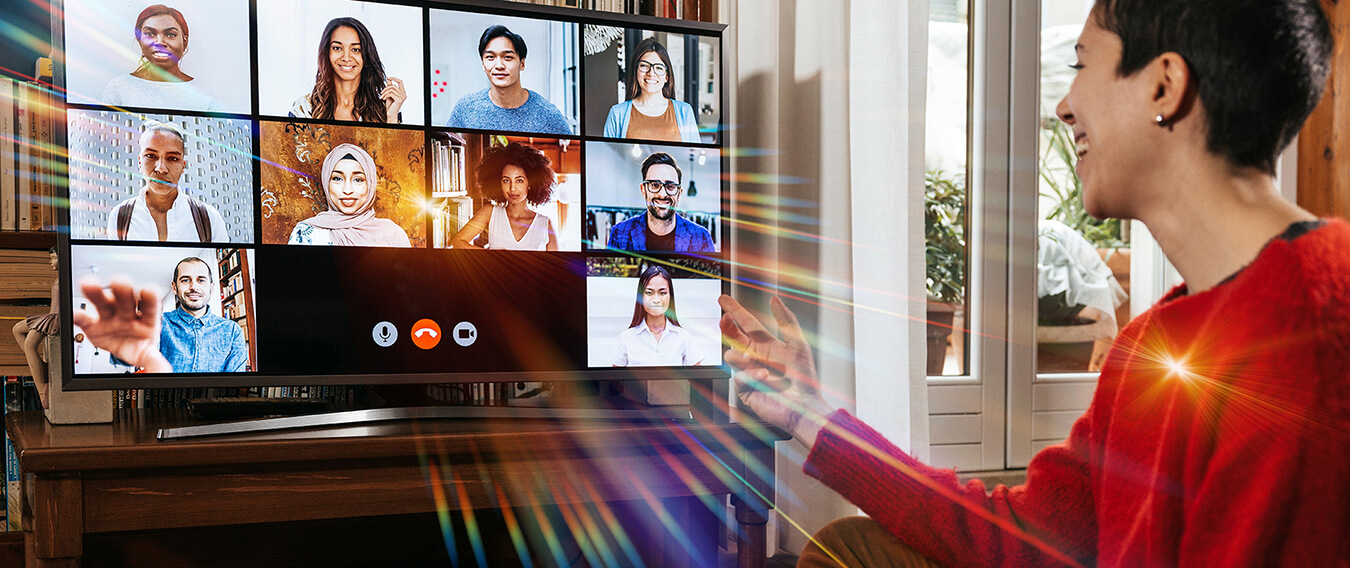 Shamanic Astrology offers some of the most transformational online teachings available, within a thriving global community of learning and practice.
Join fellow students and practitioners to support and inspire each other as you integrate the teachings and practices Terry Morgan will share in this powerful training.
You'll be part of an international community that's on the leading edge of a global movement of people manifesting a world grounded in principles of cooperation, harmony, and reverence for all of life.
More Praise for Terry Morgan…
"[Terry] has gathered a powerful toolkit for working magic and bringing healing over a lifetime dedicated to studies and practice."
Terry Morgan is an astrologer extraordinaire who sees natal charts and profound soul connections where others just see circles or things on repeat. As a shamanic teacher, she has gathered a powerful toolkit for working magic and bringing healing over a lifetime dedicated to studies and practice. As a grandmother, she is powered by both the Moon and Bear energies. Yet she remains a child at heart — she sees the magic many people don't see and actively works the magic all of us need.
— Imelda Almqvist, international teacher of sacred art and Norse shamanism, author of Natural Born Shamans and Sacred Art: A Hollow Bone for Spirit
"[Terry] is a patient and powerful healer whose work has touched my heart and soul."
Terry is an astounding practitioner and teacher who is able to bridge ancient shamanic techniques with the wisdom of the stars. She is a patient and powerful healer whose work has touched my heart and soul. She has access to a profound set of tools that allows excavation of dis-ease. Terry has an innate ability to create a safe place for healing. Her wisdom and ability to facilitate the work of the unseen is amazing.
— Jan Gail, shamanic teacher
"[Terry] tunes in to your interests and intentions and shares information with a keen mind and a warm and open heart."
Why do I enjoy Terry's astrological readings? Let me count the ways…. Her knowledge and expertise is deep and is fed by her passion for all things astrological. She tunes in to your interests and intentions, and shares information with a keen mind and a warm and open heart. She takes the preparation of your chart seriously and yet makes room for lightness and humor. Every time I've met with Terry to review my chart it's been a juicy, inspiring, enlightening, and affirming experience. She is a gift!
— Martha Williams, Soulfire Associates Yoga and Healing
"… one of the warmest and most compassionate shamanic teachers and astrologers that I know."
Terry Morgan is one of the warmest and most compassionate shamanic teachers and astrologers that I know. She beautifully shares her deep understanding and knowledge of both shamanism and astrology, which helps to create the potential to guide us on our journey as we awaken and heal. What a blessing it is to both know and work with Terry.
— Alec Davis, shamanic teacher
"Terry's power to hold the soul and hear and help direct its true calling is immense."
Terry's power to hold the soul and hear and help direct its true calling is immense. I have been lucky to have spent the last two years going through a parallel mentoring program with Terry. She has guided me to hold faith in the initiations I have been experiencing in my life as she reads them mirrored in my chart. This continues to bring me immense faith and understanding through challenging times. The shamanic work Terry has helped me to focus on with Black Moon Lilith and Chiron I believe has been wholly responsible for the changes I am feeling in being able to own, care for, and aim even more directly my feminine fire. Then, on top of this astrological skillfulness, you get Terry! Wow. Her natural blazing qualities of warmth, compassion, realness, counseling skills, courage, groundedness, and tenderness bring safe holding, kindness, and strength that mean you can go deep to those places that only the most real and gifted of practitioners can accompany you through.
— Carol Day, shamanic teacher, author of Wheel: The Little Red Book of Shamanism and Drum: The Rhythm of Shamanism
About Terry Morgan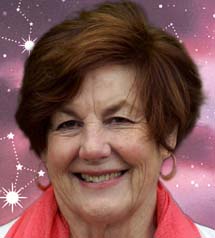 Terry Morgan is a shamanic astrologer with nine years experience teaching core and advanced shamanic trainings. Her services include in-depth individual and group sessions in evolutionary astrology, featuring her signature work that couples shamanic journeying with the astrological process, and reveals Black Moon Lilith's potency in the chart.
She teaches Transfiguration, Extraction, and other advanced shamanic trainings, has performed Soul Retrievals for many clients around the world, and has conducted numerous healing ceremonies including her personal calling, Sacred Fire.
Terry's shamanic training began with a 2-year Core Shamanism Apprenticeship with Dory Cote and a 2-year Initiations program with Dory and Barbara Bloecher. She then completed a one-year requisite course in Core Shamanism followed by a 2-year Teacher Training with Sandra Ingerman. Terry's teaching experience includes eight years as Teaching Associate with Dory at teaching centers, including Kripalu Center For Yoga & Health, Omega, and Multiversity.
Terry, an active member of Renee Baribeau's teacher team, was a participant in Renee's 2019 "I Am" Symposium. She did two live teachings in the program, a New Moon's Message, and an Owl Journey Visualization accompanied with live music provided by her partner Robert Rand, creator of Wavepool, the Deep Relaxation Soundtrack.
---
Sale Page: https://theshiftnetwork.com/course/01TMorgan01_22
Archive: https://archive.ph/wip/eF9je